This product has been developed on a 2016 Audi RS3 (8V) "Pre Face Lift" and we are now looking for these cars to confirm fitment:
2017-2020 "Face Lift" Audi RS3 (8.5V)

2014-2022 Audi TT-RS (8S)

2011-2018 Audi RSQ3 (8U)

2018-2022 Audi RSQ3 (F3)
All cars need to have the 8 piston Brembo calipers.
If you are located in Sydney and can leave your Audi at our Girraween workshop (near Sydney Motorsport Park) for a day, we will give you:
Free genuine DBA rotors: your choice of plain or slotted (worth up to $505)

We have 2 pairs of plain and 2 pairs of slotted in stock, first in best dressed

Free installation (worth $550)
Return of your original rotors and misc parts (of course)

Keep them as spares or sell them to get more money back
Total savings = over $1000.00
Contact Us to be the first + save 🙂
---
---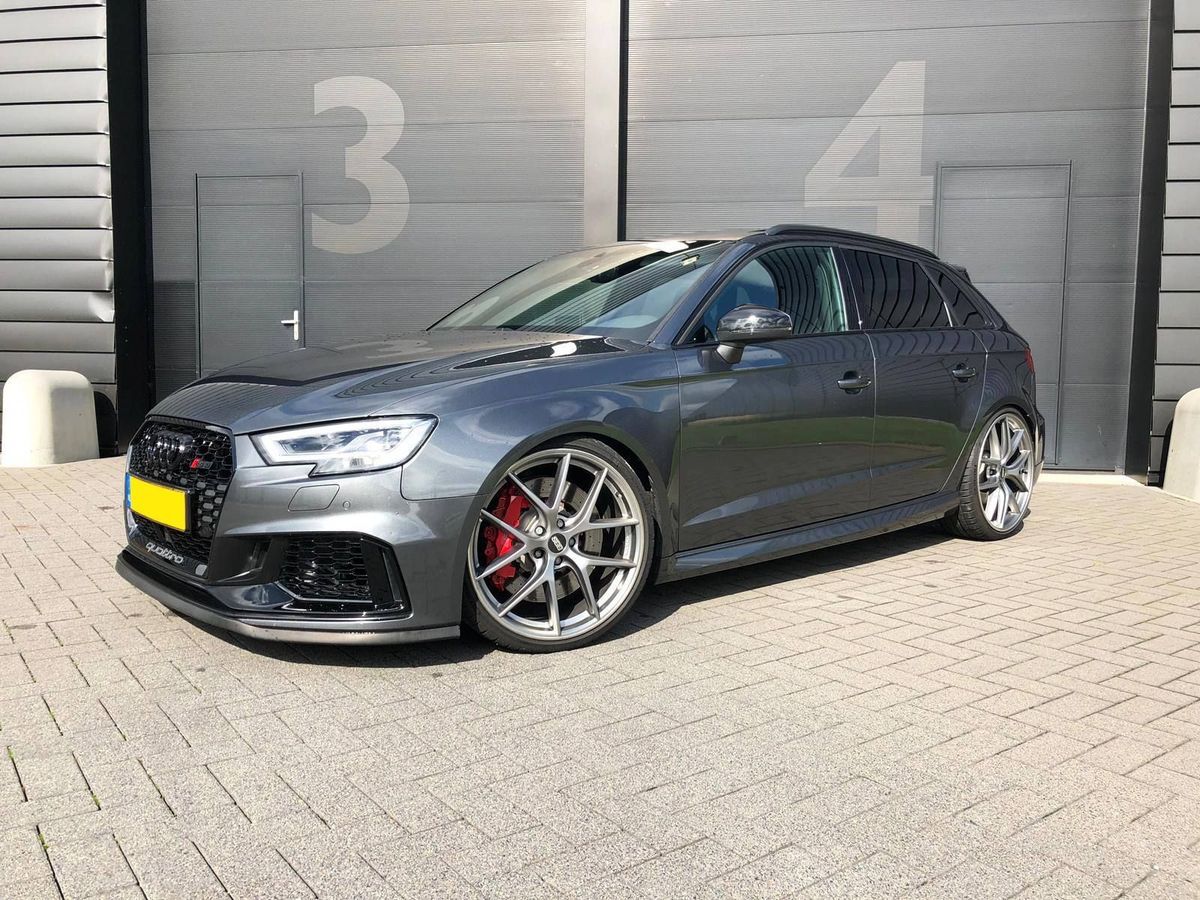 Audi RS356 brakes
Audi "RS356" Brakes.
This replaces your Audi RS 2-piece 365mm or 370mm front rotors with slightly smaller 356mm 1-piece rotors for savings and comfort.
The size difference is only 3.8%!
Cheaper brake rotors / cheaper brake discs (Save over $1100)
Cheaper rims + cheaper tyres (19" down to 18")
More comfort + more refinement (with 18" wheels and tyres)
100% bolt on (no cutting, no grinding, no modifying, no drilling, nothing)
Audi RS356 brakes: installed
TRIPLE SAVINGS
"RS" rotors are all 2-piece which means they're very expensive: OEM is $2000+ and aftermarket is $1500+.
A number of Audi "A" and "S" vehicles use a 356mm rotor in a 1-piece design, and they only cost $380 for Australian made DBA rotors – that's at least $1100.00 in savings!
If you're looking for aftermarket wheels then the RS356 brakes allows most 18" rims to be used (instead of 19"). 18" rims are cheaper, and tyres are also cheaper in 18": that's double savings on top of the savings you get with the rotor upgrade.
DBA 356mm rotors VS OEM RS3 370mm rotors
COMFORT
Even though it's only a 3.8% decrease in size, it actually means you can now run most 18" wheels! We say 'most' because our test car uses base model Audi A3 wheels, and A3 wheels don't normally fit on the RS3. If the RS356 brake upgrade can fit the most non-performance wheel in the range then it should fit everything else, right?
18" wheels means you can upgrade from low 30/35-profile tyres to taller 40/45-profile tyres. The higher profile means more comfort. A common complaint is the standard 19" wheels was too uncomfortable, even with the magnetic ride set on "comfort". The 18" wheels and taller tyres adds a level of comfort and refinement that should've came standard from the factory.
And if you like drag racing, you'll love launching harder with a taller sidewall 🙂
Billet aerospace 7075-T6 CNC machined carriers, anodised in Signature Sun Silver
PERFORMANCE
Through 17,000km of normal road driving on the test car – a 2016 Audi RS3 – drivers could not feel any difference whatsoever. This makes sense as we don't super late brake mums and dads on our daily commutes haha
During spirited driving, drivers said there was a small difference, maybe 5%. On a technical level, the difference between 356mm and 370mm is only 3.8% – so this subjective feedback aligns with the objective data.
Alpha Omega Racing caliper carriers are 100% CNC machined billet alloy, grade 7075, T6 heat treated. It is the highest grade of billet alloy and commonly known as "aerospace alloy" because, as you can probably guess, it's used extensively in aircrafts – for its light weight and high strength qualities. We make the kit right here in Australia so that you know the quality is excellent.
Did you know the '7075' material was invented by a Japanese company and it's used in stuff like the space shuttle, precision rifles, fighter planes, and naval warships? Very cool!
17,000km of testing and wore through a set of OEM Audi Brembo brake pads
WHAT'S INCLUDED?
EVERYTHING except rotors is included for a 100% bolt on installation. No other parts will be required.
2x Military-specification CNC machined billet aerospace 7075-T6 caliper carriers
2x Military-specification CNC machined billet aerospace 7075-T6 centrebore aligners
Printed full step-by-step installation instructions with colour pictures
NO rotors included, you need the 356x34mm rotors found on the following Audi vehicles:

A6 and S6: C7 series (1LL, 1LF & 1ZK)
A7 and S7: C7 series (1LL, 1LF)
A8 and S8: D4 Series (4H, 1LL)
2016 Audi RS3 with magnetic dampers, 18" AUDI A3 wheels (18×8+46), 15mm spacers, and 235/40/18 tyres