Sold out. Pre-order now to for HALF PRICE crate gearbox setups + other tasty discounts, easily saving over $1000.00!
Shipping out by the end of June 2023.

TEN YEARS OF RESEARCH & DEVELOPMENT
I love my Silvia!
I DON'T want to cut, hammer, bash, trim, or modify my chassis at all, not even a "little" bit.
You just want the perfect fitment and the perfect feel from your 500kw+ gearbox, the way it should've came from the factory.
R33GCK-Factory
With over 10 whole years of engineering Nissan Silvia-specific drivetrain solutions (2009 we released the Z32GCK) we now give you the:
"R33GCK-Factory"


RB25DET R33 Gearbox Conversion Kit – Factory Fitment (also fits* the R34 gearbox)
Factory shifter location
Factory shifter movement
Factory shifter feel
Factory gearbox fitment
No low-hanging gearbox
No chassis modifications
No extra heat
No extra noise
Factory interior trims fit perfectly
Handles over 500kw in stock form
Biggest selection of aftermarket gearsets and upgrades available
"How's this possible??!?!?!!" The answer is in re-engineering the shifter setup on the R33 / R34 RB25DET gearbox, and then everything else neatly fell into place. So let's talk about the shifter setup first…
R33GCK-Factory: shifter setup re-engineered to suit the Nissan S-chassis
ABOUT THE SHIFTER
We've re-engineered the strong Nissan Skyline RB25DET gearbox's shifter setup so it comes out right in the middle of the standard Nissan Silvia SR20DET shifter chassis hole. 8 new billet pieces have been CNC machined out of high-carbon steel and aerospace aluminium. The results have no tricks, no weird movement, no odd feels – just honest to goodness hardcore engineering and precision manufacturing.
Here are the differences between the similiar yet different Z32GCK and R33GCK-Factory.
By following the provided step-by-step full colour professionally printed instruction manual, you disassemble the R33 or R34 gearbox, bolt on the Alpha Omega Racing shifter parts, then re-assemble the gearbox – the shifter will then pop out right in the middle of the S-chassis' shifter hole – just like factory!
R33GCK-Factory: Perfect Shifter Position – S13
R33GCK-Factory: Perfect Shifter Position – S14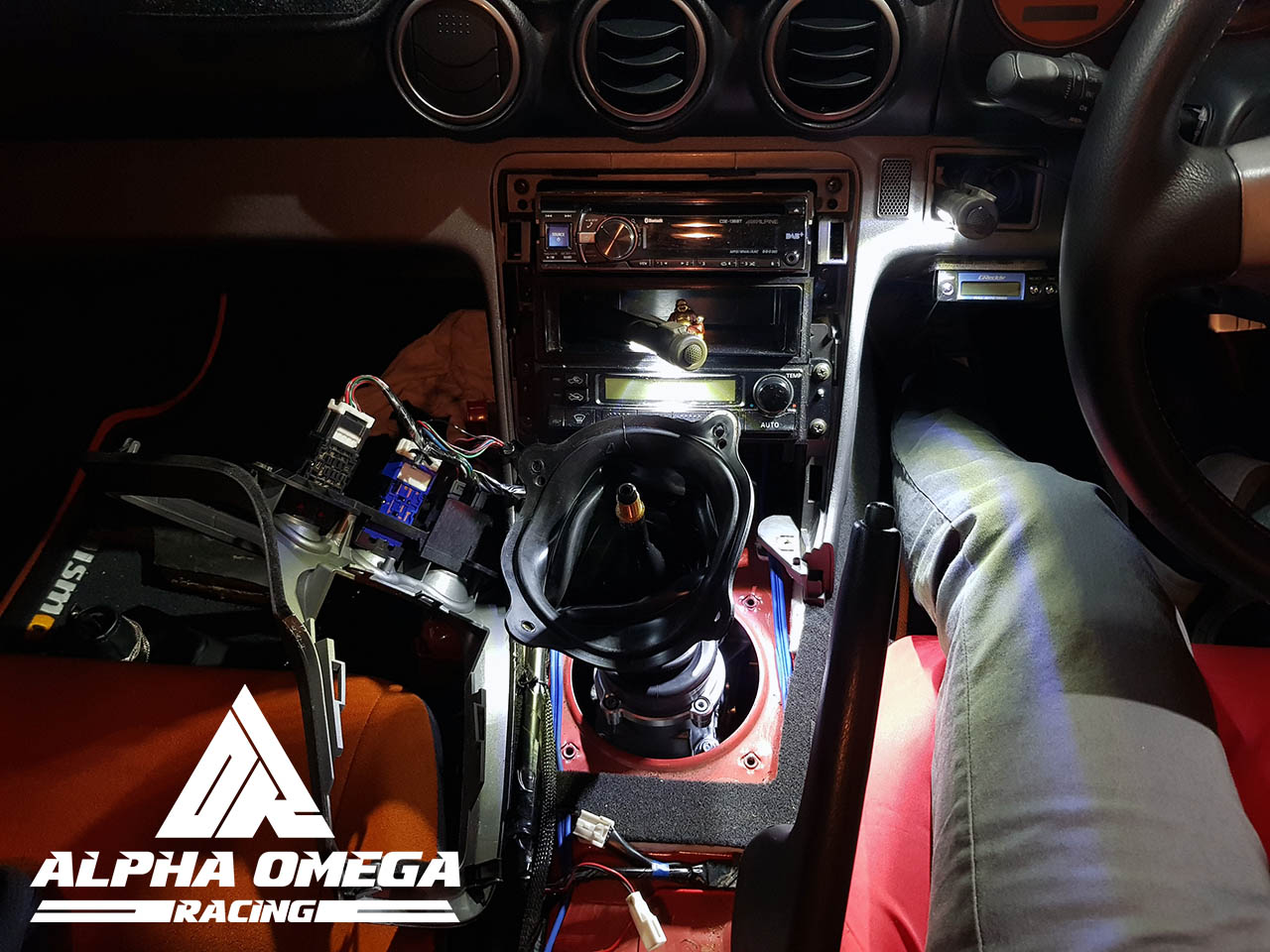 R33GCK-Factory: Perfect Shifter Position – S15
The results:
R33 / R34 RB25DET gearbox's shifter is now perfectly in the middle of the standard Nissan Silvia S13, S14, or S15 (SR20) shifter hole
Shifter movement is perfect H-pattern
Shifter feel is perfect
No cutting or modifying any metal
No cutting or modifying any plastic
No hammering or bashing or massaging or "love tapping" your chassis
Standard interior trims fits perfectly
All functions work perfectly – like factory – reverse lockout, return to centre, reverse sensing and neutral sensing
Features:
CNC machined high-carbon billet steel components for the ultimate in solid, precise shifting feel
CNC machined aerospace billet aluminium components for light weight and corrosion resistance
20% shorter-throw with the OEM Skyline standard shifter
Anodised Type II (Steel cannot be anodised)
R33GCK-Factory: Perfect Shifter Position – a look from underneath
ABOUT THE ADAPTER PLATE
In all the years – since 2009 – we've made gearbox adapters we have had exactly zero issues and zero complaints: we got this down pat. It wasn't really all that difficult… just expensive; CNC machines are repeatable 24/7, the CMM is accurate to 0.001mm, and we didn't take shortcuts – it's one thick billet piece of 360° alloy to ensure rigidity and reliability, keeps all 4 genuine OEM Nissan alignment dowels in their factory locations and then added other little thoughtful features.
We custom engineered it to use additional fasteners – 18 high tensile bolts – to secure the gearbox onto the motor; this is the most, ever. Alpha Omega Racing is the only company to do the following; we mapped out extra-but-blanked holes in the R33 gearbox, then we machined corresponding holes into our billet adapter, then give you the instructions on exactly where and how to drill out those holes.
A wonderful side benefit of the thick billet adapter and the most bolts used in any conversion kit available is that it gives you increased engine reliability! Block braces and girdles strengthen the engine horizontally, the billet gearbox adapter strenthens the engine vertically. Autospeed states Nissan "…concentrated on the rigidity of the engine (and of the engine/trans combination, which used 10 connecting bolts) by using a main bearing girdle, the two-piece sump and the closed-deck block."
CNC Machining the full ring thick billet alloy engine-to-gearbox adapter
We manufacture chassis-specific parts, and the parts are different!
If you have an S15 with the 6-speed gearbox then:

No flywheel spacer is used
*No* bellhousing machining (face milling) is required but holes need to be added and modified; the installation manual includes all machining instructions or we have a swap-and-go machined bellhousing available too

If you have an S13 or S14 then:

No flywheel spacer is used
Bellhousing machining (face milling) *is* required; the installation manual includes all machining instructions or we have a swap-and-go machined bellhousing available too

If you have already done some other gearbox conversion and want to upgrade to Alpha Omega, then Contact Us for a customised solution
The results are:
Input shaft spline centrelines are perfectly aligned – this means all SR20 flywheels and clutches will fit; single plate, twin plate, triple plate

No custom flywheels or custom clutches are required, ever!

Perfect engine-to-gearbox alignment by keeping all 4 OEM alignment dowels and their original positions
Perfect starter motor alignment
Easy starter motor servicing
Increased engine rigidity and reliability
Features:
CNC machined billet 1-piece alloy for accuracy, rigidity and reliability
CMM accurate to 0.001mm
18 high-tensile bolts to secure the gearbox onto the motor
OEM genuine Nissan alignment dowels included
Reliefs for dust and dirt where necessary
Anodised Type II
CNC machined R33GCK engine-to-geabox adapter: finished
ABOUT THE CROSSMEMBER
We heard it was overkill for the cross member to be CNC machined billet alloy, and we also heard complaints about sheet metal welded cross members not fitting properly on some raced, drifted, dragged, bent, crashed, repaired chassis'. We'd rather hear complaints about price rather than complaints about things not fitting or working properly so here's our solution: a 3-piece billet CNC machined cross member giving you adjustability in all directions.
CNC Machined 3-Piece Billet Alloy Cross Member, multi-adjustable and raises the Skyline gearbox to the factory Silvia angle
Because of the perfect shifter position it is now possible to raise the gearbox back to the correct angle without cutting, hammering or modifying anything – a world first for any gearbox swap in any Silvia, ever! You'll notice the up-swept angle of the cross-bar to achieve zero tilt on the drivetrain – zero tilt on the engine, zero tilt on the gearbox (obviously), and zero tilt on the tailshaft. No more vibrations, no more scraping gearboxes, and no more wearing out unijoints. You don't have to worry about your engine hitting your aftermarket carbon fibre hood or stretching out your wiring and hoses or do any intercooler or exhaust piping modifications either.
Features:
3-piece design; adjustable in all directions for a factory fit
The gearbox angle is perfect – not lowered or raised from the factory angle
Guaranteed perfect install
Anodised Type II
CNC Machined 3-Piece Billet Alloy Cross Member, multi-adjustable and raises the Skyline gearbox to the factory Silvia angle
OTHER TRICKS AND FEATURES
FLYWHEEL / CLUTCHES:
No flywheel spacer is used here. Re-use your current SR20 flywheel and clutch kit, or use any aftermarket SR20 flywheel/clutch kit designed for your car – all single and multi-plate clutches are compatible with the Alpha Omega Racing design.
TILT:
Alpha Omega Racing raises the back of the Skyline gearbox to the original height without cutting or bashing metal. Using the R33GCK-Factory, the gearbox is tilted 0º (zero degrees).
EVERYTHING INCLUDED:
All necessary bits and bobs are included for installation, you will not have to run out to the shop to buy anything else and you can re-use your current gearknob too!
SMOOTH INSTALL:
Included is a professionally printed step-by-step instruction manual with full colour pictures, surprisingly handy to have next to you during the install. Any licensed mechanic will be able to carry out the installation and except for the bellhousing modifications, no specialist tools are required.
SUMMARY
Factory-like fitment and feel
Shifter is perfect in every way
No hammering or cutting or modifying of any metal or plastic in your chassis
Re-use your current flywheel and clutch kit, or use any kit made for your Silvia
Made and engineered in Australia so you know it's done right
R33GCK-Factory: looks and feels like factory, but handles over 500kw
WHAT'S INCLUDED?
The R33GCK-Factory includes everything needed to install and adjust the R33 and R34 gearbox:
1-piece CNC machined billet aluminium gearbox adapter plate
3-piece CNC machined billet aluminium cross member, multi-adjustable
8-piece CNC machined billet aluminium + billet high-carbon steel shifter set up with 20% short-shift function
2x CNC machined billet aluminium clutch fine tuning rings
2x genuine Nissan OEM alignment dowels
CNC machined billet S15 gear knob adapter (comes with the S15-specific kit, not required for S13 or S14)
Zinc coated silver spring pin
Zinc coated high tensile silver nuts, bolts and other hardware
Professionally printed full step-by-step installation instructions with colour pictures
You need the following parts to make it all work:
R33 (or R34*) Skyline RB25DET manual gearbox (with its 3 sensors, shifter and slave cylinder)
Some modifications are necessary.
Made in Australia
*NOTES ON THE VARIOUS RB25DET GEARBOXES
This product is engineered to work with the rear wheel drive Nissan Skyline R33 / R34 RB25DET 5 speed manual gearboxes code FS5W30A with 40mm input shaft spline length and the push-style clutch release mechanism.
The R34 model RB25DET Skyline gearbox is "pull-style" but you can use it here when you swap in the R33 "push-style" front cover. The good thing about the R34 gearbox is it's the last revision of these gearboxes with the upgraded 4th gear. To do the pull-to-push conversion you need the following items:
R33 gearbox front cover plate including the clutch pivot ball
R33 clutch slave cylinder

The R34 bellhousing has provisions to mount the R33 slave cylinder but the holes are blind, you simply drill and tap these blind holes.

Re-use your Silvia's clutch fork, throw out carrier and bearing
One last thing you need to know is that the shifter bushes are different sizes; you either need to swap an R33 shifter bush onto your R34 shifter, or just use the R33 shifter.
Alpha Omega Racing: Engineering The Limit.
R33GCK-Factory: R33 Gearbox Conversion Kit – Factory Fitment